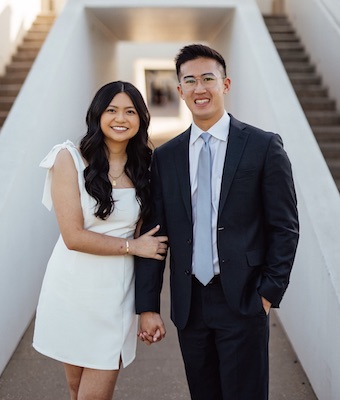 Dr. Jacqueline Phan was born and raised in the heart of Houston, Texas. She brings her warm Texan charm and a wealth of accomplishments to our team.
In high school, she excelled in more ways than one, being voted homecoming queen, prom queen, and even most likely to succeed. Her passion for helping others shone through as she held the titles of most helpful girl, class president for all four years, and president of the National Honor Society. Graduating as salutatorian, she set her sights on further success.
With a thirst for knowledge, Dr. Phan pursued her Bachelor of Science in Biology from the University of Texas at San Antonio, graduating summa cum laude. Her journey continued at the University of Texas School of Dentistry in Houston, where she not only honed her dental skills but also discovered something even more valuable – love. It was there that she met her fiancé, who happens to be in the same dental class. Talk about a match made in dental heaven!
Throughout her dental education, Dr. Phan demonstrated her commitment to excellence. Her instructors recognized her talent and selected her to serve as a pre-clinical teaching assistant for underclassmen, sharing her knowledge and passion for dentistry.
Following her heart, she decided to follow her fiancé, a Southlake native, and set up roots in Dallas. Driven by her desire to provide exceptional care, she is thrilled to be a part of this wonderful community and serve its dental needs.
Outside of dentistry, Dr. Phan cherishes time spent with her loved ones. She eagerly counts down the days to crawfish season, a year-long affair in her book. Laughter is her secret weapon, and she's always on the lookout for an opportunity to make others laugh. In fact, if she weren't in the dental field, she'd be rocking the comedy scene at SNL. She truly knows how to keep everyone smiling!
Please join us in welcoming Dr. Jacqueline Phan to our practice. Her dedication, expertise, and vibrant personality will make your dental experience enjoyable and memorable. We're thrilled to have her as part of our team!