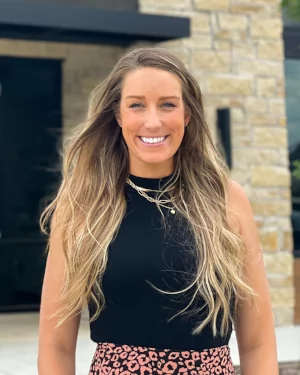 Dr. Terrin Seaver was born and raised in Lake Geneva, Wisconsin. She grew up spending most of her time in the lakes around the area and joined a competitive swim team by age 8. Dr. Seaver received an athletic scholarship to New Mexico State University in Las Cruces, NM. While swimming for the Aggies, she set 6 school records and was a Western Athletic Conference champion. In addition to swimming, Dr. Seaver began working in a pediatric dental office and soon fell in love with the field of dentistry.
After graduating with her bachelor's and master's degrees in biology, she moved to Albuquerque and worked on a mobile dental office that traveled to elementary schools across Northern New Mexico for a year. Dr. Seaver moved to Arizona, and attended dental school at Midwestern University in Glendale. Dr. Seaver earned her Doctor of Dental Medicine and was awarded the Dean's Outstanding Clinician's award and recognized for her passion for digital dentistry.
In her spare time, Dr. Seaver enjoys traveling and learning about different cultures. She likes watching sports and cheering on the Green Bay Packers. Dr. Seaver still has a great passion for being in water, she enjoys swimming and is a certified scuba diver.