KRISTI P. — LEAD HYGIENIST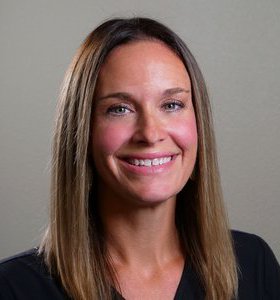 Kristi was born and raised in Sioux Falls, South Dakota, and she has been married to her amazing husband, Travis, for 12 years. They have three wonderful children: Colt, Brody, and Raelee. Kristi and her family live in Ponder with some acreage that allows them to have dogs, horses, and chickens. In her spare time she enjoys being with family and friends, being outdoors, riding horses, going to movies, and attending high school football games on Friday nights.
Kristi is a Registered Dental Hygienist who graduated from Tarrant County College in 2006 and joined the Parkview Dental team in 2017. Kristi says "my main concern is that together we can help you achieve the healthiest mouth possible!"
---
CAMILA R. — LEAD ASSISTANT
Camila moved from Tyler, TX, to the DFW area in 2018. She is a Registered Dental Assistant and a dog mom. She enjoys spending time with her pug, Bella, and supporting her boyfriend and his band, Recent Rumors.
---
NATALIE A. — DENTAL HYGIENIST
Natalie was born and raised in Arlington, TX. She has always had a passion for dental hygiene and started her first
dental office internship in high school. She enjoys educating patients on how to improve their oral health and helping them achieve a healthy smile.
In 2011, Natalie graduated from the University of Texas at Tyler with a Bachelor of Science in Health Studies and then went on to get a degree in Applied Science in Dental Hygiene from Tarrant County College in 2015. Natalie has been married to her high school sweetheart for 5 years and they now have a new baby boy named Levi. They also have two fur babies; their dog named Bailey and a bunny named Benny. In her spare time she enjoys spending time with her family, going for walks, and treating herself to an occasional mani/pedi.
---
CHANEL J. — OFFICE MANAGER
Chanel was born and raised in Farmington, NM. She went to college in Utah where she met her Texan husband, Rodney. After returning to New Mexico for many years, they made their way to Hickory Creek, Texas, where they raised their 3 children. They have a son, a daughter in law, and two daughters—all in college now! When she is not working, Chanel loves to travel, visit family, play with her 3 dogs, be creative, hunt, and ski.
---
THERESA — HYGIENIST
Theresa has lived most of her life in Florida, but moved to Texas in 2019 with her husband, daughter, and her two fur babies. In her spare time, she teaches yoga as a Certified Yoga Instructor. She has a love for black and white films, live music, and the great outdoors with her family.
She is a Certified Registered Dental Hygienist and loves building amazing relationships with patients through compassion, fun, and knowledge. She always says that every day she hopes to learn something new, and her biggest reward is to make someone smile.
Favorite Quote: Sometimes your joy is the source of your smile, but sometimes your smile can be the source of your joy. — Thich Nhat Hanh
---
HANNAH — DENTAL ASSISTANT
Hannah was born and raised in Houston. She is an all-star Registered Dental Assistant and is passionate about helping others achieve optimum oral health. She enjoys making people smile, being outdoors, spending time with family and friends, and going for runs.
---
MONICA — DENTAL ASSISTANT
Photo and Bio Coming Soon!
---
BRY — DENTAL ASSISTANT
Bryanna is from Oklahoma but has been in the DFW area for several years now. She is a Registered Dental Assistant, and loves working with kids. Her goal is to one day become dental hygienist. In her free time she enjoys photography, hanging with friends, and baking cookies.
---
BLAYNEE — PATIENT CARE SPECIALIST
Blaynee is Texas-born and raised! She started her dental career as an orthodontic assistant and is now our patient care specialist. She shares her beautiful smile with every person she meets. She understands the relationship between good dental health and good overall health and is happy to help people achieve both. She and her fiancé recently purchased and renovated their first home and welcomed their first child, a beautiful baby boy to their family. She enjoys spending time with family and friends, going on trips, and the great outdoors.
---
ELIZABETH — INSURANCE SPECIALIST
Photo and Bio Coming Soon!
---
NICOLE — TREATMENT CARE COORDINATOR
Nicole was born in Utah and has lived in Germany, Austria, and two different places called Georgia (the country near the Black Sea and the state of Georgia). She recently moved to Texas where she lives with her husband, two beautiful children, and one fur baby. She enjoys working at Parkview Dental because of the time and care given to each patient. In her spare time, Nicole likes to travel and learn about different cultures and countries. She's also a published author of two young adult novels, BLACKHEARTS and BLACKSOULS, both out now with Simon and Schuster.
---