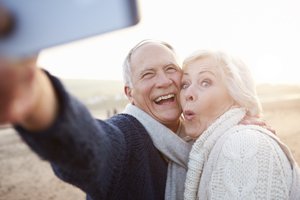 Give Yourself a Healthy New Look With Dentures from Parkview Dental!
Many of our patients need dentures, including younger patients who have suffered serious injuries. When you need a new smile, Parkview Dental has the state-of-the-art dental technology that can help. Each denture is custom-designed, so your smile feels and looks naturally beautiful.
Traditional Dentures
For our patients who would like a more affordable option, we continue to offer traditional dentures in our office. Traditional dentures are convenient because you only need to wait for the dentures to be created. Each denture is custom-designed to fit over your gum arch and is held in place using adhesive.
Our traditional dentures are strong and durable, so you can go back to eating the foods you love. Take good care of your dentures to help them last a lifetime. Be careful when cleaning your dentures. Store your dentures in a cup of clean water each night to keep them in good condition.
Implant-Supported Dentures
For our patients who would like the option of permanent dentures, we provide implant-supported dentures. With implant-supported dentures, we place several titanium alloy implants that hold the new teeth in place. Implants make dentures more durable and stable, and you won't have to worry about slipping and sliding when dentures adhesive fails.
You can still remove implant-supported dentures, but because they snap into place, you won't need to worry about loose teeth. Eat the foods you love, and start speaking with confidence again! At Parkview Dental, we provide beautiful implant-supported dentures that keep you smiling!
Partial Dentures
For our patients who have healthy remaining teeth, we can provide partial dentures. Partial dentures can be either traditionally made or implant-supported, depending on your situation. Each partial denture is designed to fit in with your natural teeth, blending into a beautiful smile that can improve your confidence!
For a New Smile, Call Us About Our Denture Options
If you're ready for a new smile with dentures, call us to find out more about your options. We can show you the different types and answer your questions. We're excited to meet you and help you start smiling again!