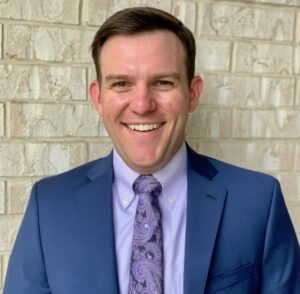 Dr. Zachary Flink was raised in Grapevine, TX. After receiving his undergraduate degree in microbiology from The University of Oklahoma, Dr. Flink attended the University of North Carolina at Chapel Hill for his Doctor of Dental Surgery Degree. During his time in dental school, Dr. Flink served as class vice president, was selected by his instructors to be a teaching assistant and was a recipient of the Health Professions Scholarship Program (HPSP) through the United States Air Force.
Upon dental school graduation in 2016, Dr. Flink commissioned as a Captain in the Air Force. His first assignment was at Eglin AFB, Florida, where he graduated as the top resident in his program. Dr. Flink was then stationed at Tyndall AFB, Florida, where he practiced as a general dentist until he fulfilled his service obligation. He is committed to delivering exceptional patient care tailored to each individual need.
Dr. Flink, his wife, Amanda, and their daughter, Emerson, are glad to be back in the metroplex and be surrounded by family. During his free time, he enjoys being outdoors, watching college football (Boomer Sooner!), and spending time with his family.